Welcome to Veterinary OSHA Assistant!
Whether you're improving an existing program or starting fresh, the compliance products offered here will help make your OSHA program the best it can be.
My name is Karen Andrews, and I have over 30 years of experience working at an AAHA Accredited Hospital. Even though we are an AAHA Hospital, our OSHA Program was very weak.
In 2008 I was put in charge of the OSHA program and started to research what was needed with little success...there simply weren't any good resources.
I knew if I was having trouble locating information, a lot of other people must be as well. The next 2 years were spent creating a user-friendly OSHA program written specifically for veterinarians. I'm very proud of the end result, and have been helping clients from coast to coast achieve OSHA compliance for the past 6 years!

There are three main features to your OSHA program:
OSHA Manual
Safety Data Sheets with the corresponding Hazardous Chemical Master List
Staff Training
There is a lot more to OSHA compliance than having these 3 items in your possession, but they are the core physical items in your OSHA program.
These products are already reasonably priced, but there is a way to make them even more affordable, so Digital Download of all 3 products is now available!
The Download option is available on the home page only, and products are purchased separately since each has a unique download link (located at the bottom of the payment page).
Products that will be personalized by me and shipped to you can be purchased through the Order Page shopping cart.
Download our OSHA compliance instructions for veterinary facilities
Download our comprehensive OSHA compliance checklist for veterinary facilities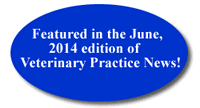 OSHA Manual
Download OSHA Manual Content that you will personalize ($125)
Instructions are included about where to personalize, and they are also noted throughout with red text so you don't miss anything.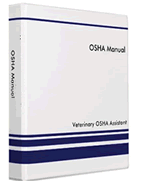 Hazard Communication Plan
Globally Harmonized System Training
Safety Information from A (Anesthesia) to Z (Zoonotic Diseases)
Infection Control Plan
Job Hazard Assessments.
Personal Protective Equipment Training
Emergency Action Plan
Workplace Violence Prevention
Accident Investigation Procedures
Employee Training Confirmation Forms
Annual Safety Review Statement
OSHA 300 Forms
**If your state requires an Illness and Injury Prevention Program or an Indoor Air Quality Program, please contact me and you will receive it separately.
Go to the Order Page for the printed version that I will personalize for you and send in a binder.
Staff Training
Download 4 Part Training and Quizzes ($100)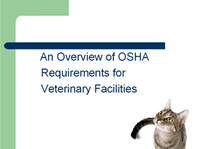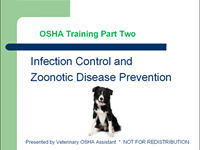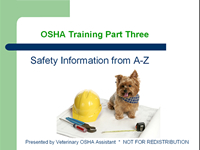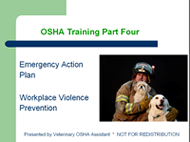 OSHA training for your staff will be simplified with this self-paced training program. Each section of the training ends with a quiz, and copies are included for your employees to fill out as proof of training.
Part 1
OSHA Overview, Hazardous Chemicals and Globally Harmonized System Training.

Part 2
Infection Control and Zoonotic Diseases.

Part 3
Safety Information from A (Anesthesia) to Z (Zoonotic Diseases).
Part 4
Emergency Action Plan and Workplace Violence Prevention.
This Training Program complements the OSHA Manual, and is also available on cds or as printed slide copies in a binder on the Order Page.
Safety Data Sheets
Download Safety Data Sheets and Hazardous Chemical Master List ($125)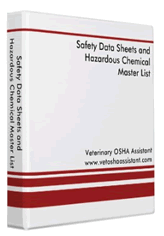 Safety Data Sheets and a Hazardous Chemical Master List are essential for OSHA compliance. This Download contains 450+ Safety Data Sheets for products commonly used in veterinary facilites.
View the complete list of products here.
The Safety Data Sheets are accompanied by the customizable Hazardous Chemical Master List. If a product doesn't contain a Hazardous Chemical it will be noted as such, which lets your employees know the product has been addressed.
OSHA regulations require that Safety Data Sheets correspond to all of the products your employees are exposed to, so if there are any products you use that are missing you can easily add them.
If you prefer to receive the SDSs on cd with the Hazardous Chemical Master List in a binder, please visit the Order Page
If you have questions about any of the products offered or any OSHA related questions, please contact me at karen@vetoshaassistant.com or 248.622.0217.
Stay Safe!
Karen Andrews ~ your Veterinary OSHA Assistant