Have you been searching for help with OSHA compliance at your veterinary facility? You've come to the right place because whether you're improving an existing program or starting fresh, we offer products to help make your OSHA compliance program the best it can be!
The 3 main components are:
OSHA Manual
Staff Training Program
Safety Data Sheets with a Hazardous Chemical Master List.
OSHA compliance doesn't end with these 3 items, and I can direct you to good resources for the following:
Federal and State Compliance Posters to be displayed in a common area.
Safety Signs for Radiology, Eye Wash Stations, etc.
Workplace Container Labels
Personal Protective Equipment
Download our comprehensive OSHA compliance checklist for veterinary facilities

Your OSHA Manual should not be a generic item, but rather personalized to your practice. The OSHA Manual offered here will be personalized to your facility, and presented in a high quality binder. All safety concerns unique to our industry are thoroughly addressed in both the OSHA Manual and the Staff Training Program.
Staff Training is essential, and the 4 Part Training Program will simplify this process. Whether you purchase the new digital download option (see below), cds or printed slide copies in a binder, your staff members will receive the veterinary OSHA training required to help them perform their jobs in a safe manner.
Safety Data Sheets and the corresponding Hazardous Chemical Master List are required for OSHA compliance.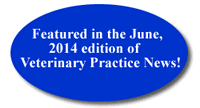 Personalized OSHA Manual
The manual is personalized to your facility, and is an essential part of your OSHA program. The manual contains: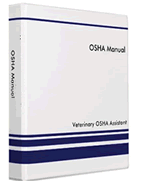 Hazard Communication Plan
Globally Harmonized System Training
Safety Information from A (Anesthesia) to Z (Zoonotic Diseases)
Infection Control Plan
Job Hazard Assessments.
Personal Protective Equipment Information
Emergency Action Plan
Workplace Violence Prevention
Accident Investigation Procedures
Employee Training Confirmation Forms
Annual Safety Review Statement
OSHA 300 Forms
Illness and Injury Prevention Program if applicable to your state
Indoor Air Quality Plan if applicable to your state
"I have been looking for an OSHA program that is specific for the veterinary industry and I have found it with Vet OSHA Assistant! The material that was sent was inclusive to everything we needed to implement our OSHA program but not so overwhelming that the task seemed daunting!

Karen was attentive to my questions and the materials came in a timely manner and looked extremely professional! I would recommend this program to any veterinary hospital looking to implement or change their OSHA program."

Sarah Gelinas, Hospital Manager
Staff Training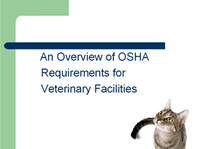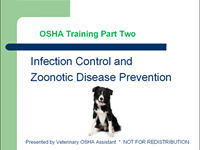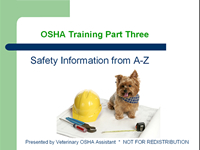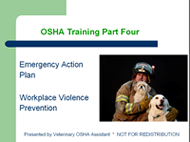 OSHA training for your staff will be simplified with this self-paced training program. Each section of the training ends with a quiz, and copies are included for your employees to fill out as proof of training.
Part 1
OSHA Overview, Hazardous Chemicals and Globally Harmonized System Training.

Part 2
Infection Control and Zoonotic Diseases.

Part 3
Safety Information from A (Anesthesia) to Z (Zoonotic Diseases).
Part 4
Emergency Action Plan and Workplace Violence Prevention.
This Training Program complements the Personalized OSHA Manual, and is also available as printed slide copies in a binder.
Instant download of 4 Part Training and Quizzes for $100, select "Buy Now"
"We operate a busy 24/7 hospital and staff training can always be a challenge. Vet OSHA Assistant allowed us to train our staff without long staff meetings.

It is a comprehensive program that is tailored for individual learning. Our staff did the review and test during their shift, thus allowing us to continue to keep the hospital running.

I would highly recommend this program to all animal hospitals, it is very user friendly and Karen has been great with follow up to be sure everything is going smoothly."

Kristine Gerster, DVM
Safety Data Sheets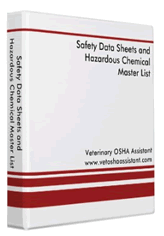 Safety Data Sheets and a Hazardous Chemical Master List are essential for OSHA compliance. This cd contains 450+ Safety Data Sheets for products commonly used in veterinary facilites.
View the complete list of products here.
The cd is accompanied by a binder with the Hazardous Chemical Master List. If a product doesn't contain a Hazardous Chemical it will be noted as such, which lets your employees know the product has been addressed.
OSHA regulations require that Safety Data Sheets correspond to all of the products your employees are exposed to, so if there are any products (up to 10) you use that are missing I will add them at no charge.
If you have questions about any of the products offered, please contact me at karen@vetoshaassistant.com or 248.622.0217.
Stay Safe!
Karen Andrews ~ your Veterinary OSHA Assistant