Welcome!
OSHA compliance may seem like an overwhelming challenge, but I'm here to help ease that burden.
Veterinary OSHA Assistant offers 3 products to help you become OSHA compliant. These products are all updated for the Globally Harmonized System (GHS):
Personalized OSHA Manual
Staff Training
Safety Data Sheets and Hazardous Chemical Master List
These 3 products combined with the actions in the OSHA Compliance Checklist will ensure a strong OSHA Program at your facility.
I also offer GHS compliant secondary container labels that are of the highest quality. These labels will still look great 1 year after application, and I can personally attest to this. Imagine not having to worry about frayed or illegible secondary container labels ever again!
Please visit the GHS Labels page for more information.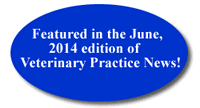 Personalized OSHA Manual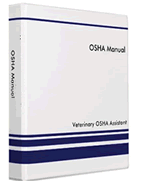 Hazard Communication Plan
Globally Harmonized System Training
Safety Information from A (Anesthesia) to Z (Zoonotic Diseases)
Infection Control Plan
Job Hazard Assessments.
Personal Protective Equipment Training
Emergency Action Plan
Workplace Violence Prevention
Accident Investigation Procedures
Employee Training Confirmation Forms
Annual Safety Review Statement
OSHA 300 Forms
Illness and Injury Prevention Program or an Indoor Air Quality Program if applicable to your state
* Download the Personalization Questions for your order.
Go to the Order Page
"I have been looking for an OSHA program that is specific for the veterinary industry and I have found it with Vet OSHA Assistant! The material that was sent was inclusive to everything we needed to implement our OSHA program but not so overwhelming that the task seemed daunting!

Karen was attentive to my questions and the materials came in a timely manner and looked extremely professional! I would recommend this program to any veterinary hospital looking to implement or change their OSHA program."

Sarah G., Hospital Manager
Staff Training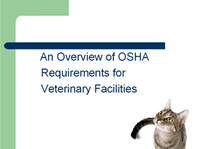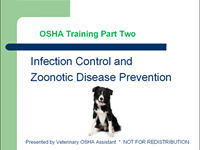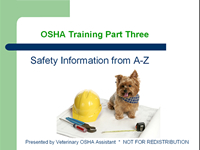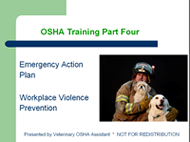 OSHA training for your staff will be simplified with this self-paced training program. Each section of the training ends with a quiz, and copies are included for your employees to fill out as proof of training.
Part 1
OSHA Overview, Hazardous Chemicals and Globally Harmonized System Training.

Part 2
Infection Control and Zoonotic Diseases.

Part 3
Safety Information from A (Anesthesia) to Z (Zoonotic Diseases).
Part 4
Emergency Action Plan and Workplace Violence Prevention.
This Training Program complements the OSHA Manual, and is available on cds or as printed slide copies in a binder on the Order Page.
"We operate a busy 24/7 hospital and staff training can always be a challenge. Veterinary OSHA Assistant allowed us to train our staff without long staff meetings.
I would highly recommend this program to all animal hospitals."
Safety Data Sheets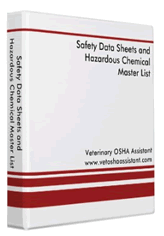 Safety Data Sheets and a Hazardous Chemical Master List are essential for OSHA compliance. This cd contains 450+ Safety Data Sheets for products commonly used in veterinary facilites.
View the complete list of products here.
The Safety Data Sheets are accompanied by the Hazardous Chemical Master List. If a product doesn't contain a Hazardous Chemical it will be noted as such, which lets your employees know the product has been addressed.
OSHA regulations require that Safety Data Sheets correspond to all of the products your employees are exposed to. If there are any products you use that are missing, just let me know and we can add them in (up to 10).
Go to Order Page
If you have questions about any of the products offered or any OSHA related questions, please contact me at karen@vetoshaassistant.com or 248.622.0217.
Stay Safe!
Karen Andrews ~ your Veterinary OSHA Assistant